Main content starts here, tab to start navigating
Menu
Appetizers
Guacamole

traditional mashed avocado dip served with tortilla chips

M/P

Mesculin Greens Salad

w/diced tomatoes, scallions olives & cheese

$4.95

Nachos

our house fried corn tortilla chips topped with cheese

$9.95

add chili and more cheese $13.95

mini nachos $7.95

Nachos Maximo

fried corn chips topped with chicken, beef, jalapeños, olives, tomatoes, scallions, jack & cheddar cheese with a dollop of sour cream

$15.95

Mini $13.95

Tex Mex Pizza

a crisp flour tortilla topped with relleno sauce, beef or chicken, black olives, mild green chiles, mushrooms, scallions and cheese

$13.25

RIO BRAVO CHILI Con CARNE

ground beef & red kidney beans simmered with onions, peppers, tomatoes & jalapenos ~ topped with cheese & sour cream served with our cactus corn bread

cup $4.75

bowl $7.25

Quesadilla

a flour tortilla turnover filled with Muenster, Monterey Jack and cheddar cheese ~ garnished with lettuce, tomatoes & sour cream

$7.25

Fiesta

baby button mushrooms, sliced black olives & diced tomatoes

$9.25

SPINACH and FETA QUESADILLA

a flour tortilla turnover filled with sautéed fresh spinach, roasted garlic, Feta and Muenster cheese ~ garnished with lettuce, tomatoes & sour cream

$13.25

Sierra Cheese Crisp

a grilled flour12" tortilla topped with jack & cheddar

$7.25

add fresh stir-fried veggies or chicken & broccoli or taco beef $14.50
Entrees
West Texas Burrito

a flour tortilla with your choice of filling ~ rolled and topped with cheese then lightly baked

Chicken $14.50

Beef $15.50

Mushrooms & Cheese $12.50

Refried Beans $12.50

Pork Pastor $14.50

Burrito Grande

a double "TEXAS" combo of chicken, beef and baby button mushrooms ~ topped with cheese & lightly baked

$21.50

All burritos are served with Mexican rice, refried beans, lettuce, tomatoes, sour cream and guacamole

Tostada La Casa

a crisp tortilla "basket" with your choice of filling~ topped with lettuce, tomatoes, black olives, jalapenos, scallions, cheese and a dollop of guacamole & sour cream

Refried Beans $12.50

Chili $14.50

Beef $15.50

Grilled Shrimp $19.50

Chicken $14.50

Pork Pastor $14.50

Seasoned Taco Beef $14.50

Enchiladas

two rolled corn tortillas with the filling of your choice ~ and then your choice of sauce Santa Fe Red Chile or Spicy Roasted Tomato or Roasted Tomatillo sauce topped with cheese and lightly baked ~ served with Mexican rice, refried beans, lettuce, tomatoes and a dollop of sour cream

Cheese or Bean $11.50

Chicken or Pork Pastor $14.50

Beef $15.50

Chili $14.50

Soft Tacos

twin flour tortillas filled with seasoned ground beef, onions, lettuce, tomatoes & cheese served with Mexican rice, refried beans & a dollop of sour cream

Taco Beef $14.50

Chicken $14.50

Pork Pastor $14.50

Beef $15.50

Shrimp $19.50

Ahi Tuna $19.50

Need a Fajita

Build your own with a choice from below served with sautéed peppers, onions, diced tomatoes, scallions, lettuce, guacamole, sour cream, cheese and 3 flour tortillas

Vegetarian $16.50

Chicken $17.50

Steak $20.50

Shrimp $19.50

Tres Amigos Burrito

chicken, beef and pork pastor all rolled together topped with cheese and lightly baked

$22.50

Quesadillas

a 12 inch flour tortilla stuffed with your choice of filling combined with cheddar, jack and muenster cheese, garnished with lettuce, tomatoes and sour cream served with mexican rice and refried beans

Chicken $14.50

Pork Pastor $14.50

Taco Beef $14.50

Beef $15.50

Shrimp $19.50

Ahi Tuna $19.50
Ask your server about today's dessert selections
We would be happy to give you a box to take any leftovers home to share or enjoy later.
We fry our own chips & tostadas daily in zero trans fat oil
Take care! Hot plates & food don't mix with free range children
18% gratuity added to parties of six & larger
Substitutions will reflect an additional charge
Entrée plate sharing charge $2.00
Favorites
Gulf Shrimp Quesadilla

a flour tortilla turnover filled with Muenster, jack and cheddar cheese, grilled shrimp and diced tomatoes garnished with lettuce, tomatoes and sour cream

$19.50

Spinach and Feta Quesadilla

a flour tortilla turnover filled with sautéed fresh spinach, roasted garlic, Feta and Muenster cheese garnished with lettuce, tomatoes and sour cream

$17.50

Chicken Sedona

marinated boneless breast grilled and topped with sautéed red & green peppers, onions, jack and cheddar cheese

$16.50

Carne Asada

a Teres Major steak marinated in lime juice, garlic, cilantro and jalapeño peppers, grilled and served atop a roasted tomatillo sauce

$22.50

Ahi Tuna Taco

A pair of soft flour tortillas filled with grilled rare ahi tuna, onions, lettuce, tomatoes and cheese topped with a spicy wasabi sauce

$19.50

All the above are served with Mexican rice & refried beans

Southwestern Stir Fry

grilled chicken tenders and gulf shrimp stir-fried with lightly seasoned fresh vegetables~ served on a bed of Mexican rice

$17.50

all shrimp $19.50

all chicken $16.50

Grilled Rex Burger

with house side choice
Half a pound Black Angus ground beef topped with mild green chiles, and Muenster cheese ~ lettuce, tomato, red onion on the side

$11.95
Combos
Desert Combo

three of our vegetarian goodies a spinach & feta quesadilla, cheese & scallion enchilada, baby button mushroom & cheese burrito

$21.50

Coyote Combo

a trio of our best sellers, a cheese enchilada, beef burrito, and chicken tostada

$21.50

Happy Trails Combo

this one will keep ya happy, a ground beef soft taco, cheese & green chile enchilada and chicken burrito

$21.50

All combos served with Mexican rice, refried beans, lettuce, tomatoes, guacamole & sour cream
SPECIALS
JANUARY 21st 2022
to
JANUARY 27th 2022
All MENU ITEMS and MARGS can be made and packaged for take out to be consumed in the safety of your home.
......and MARG UP !!!
FULLY OPEN...
BAR & DINING ROOM
Now Featuring FRUITFUL MIXOLOGY
Produced locally in East Hartford
Add some all natural fruit flavor to your cocktail or MARG...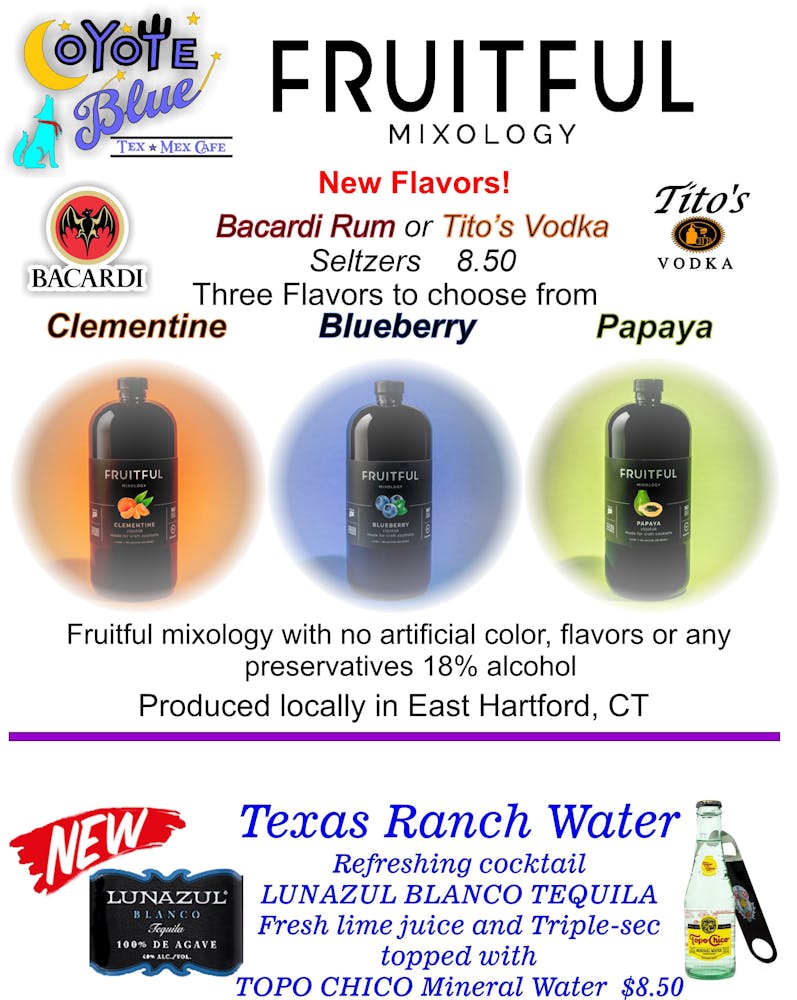 From the Bar
TEQUILA OF THE MOMENT
CIELO SILVER TEQUILA

2 oz shot $8

Margarita $11.25

LOS SUNDAYS BLANCO TEQUILA

2 oz shot $10.75

Margarita $15.25

ZIGNUM ANEJO MEZCAL

2 oz shot $11.75

MARGARITA $16.75
ON TAP
MODELLO

$7

COUNTER WEIGHT

$7

TWO ROADS HONEYSPOT

$7

SAM ADAMS LAGER

$7
IN THE GLASS
ANGELINE ROSE OF PINOT NOIR

$6.50

Bogle Chardonnay

$7.75

Bogle Sauvignon

$7.75

Luna Di Luna Pinot Grigio

$7.75

Blackstone Merlot

$7.75

Murphy Goode Cabernet

$8.75

Zonin Prosecco

$7.75
PAULANER MUNICH LAGER

Original Munich Lager is a true classic with its clear and bright gold sparkling hue, crowned by a pure white head. A beer which always goes down well: mild, elegant malts, with a hint of sweetness and a soft hint of hops in the background.

$5

MEXICAN MULE

Fresh lime juice, ginger beer and Espolon Blanco Tequila over ice in a copper mug

$10.50

MEZCAL MULE

Illegal Joven Mescal with fresh lime juice, ginger beer over ice, smokey with a ginger zing

$12.50

FIREBALL MARGARITA

Our House Margarita topped with a splash of Cinerator 90' cinnamon whiskey

$9

TEQUILA HOT TODDY

Lunazul Ultra Anejo Tequila mixed with fresh lime juice, hot water, agave nectar, whole cloves, star anise and cinnamon stick

$9
STARTERS
POTATO BACON SOUP

Sautéed spanish onions, celery and pureed potatoes in a rich cream stock with jalapeno bacon & applewood bacon crumbles (mashed potato soup)

CUP $4.50

BOWL $6.75

QUESO JALAPENO BACON DIP

Traditional Mexican cheese dip laced with our chopped jalapeno bacon red & green peppers, onions and tomatoes goes great with Margaritas

$9.25

DUCK & MUSHROOM QUESADILLA

Boneless shredded duck and grilled portabella mushroom folded in a 10" flour tortilla with muenster, monterey jack and cheddar cheese

$9.95
ENTREES
GRILLED CHICKEN, MUSHROOM & BROCCOLI QUESADILLA

A flour tortilla turnover filled with grilled chicken breast, fresh broccoli florets, button mushrooms, muenster, monterey Jack & cheddar cheese with rice & refried beans

$16.95

TEX MEX MEATLOAF

A variation of a traditional favorite made with ground beef, green chilies, roasted garlic, peppers & onions topped w/ house salsa & melted pepper jack & cheddar cheeses with mashed potato & steamed broccoli

$15.95

FISH TACOS

A pair of soft tacos filled with pan-fried wild caught Alaskan sole, lettuce, diced plum tomatoes, diced onions and our own fresh Wasabi sauce with refried beans & rice

$18.95

BUTTERNUT SQUASH & BLACK BEAN ENCHILADAS

Two flour tortillas filled with a mixture of butternut squash, black bean, onions, peppers & cilantro topped monterey jack, cheddar cheese and your choice of sauce with rice & refried beans

$14.95

QUESADILLA RACHEAL

Oven roasted turkey breast, sauerkraut, swiss cheese and russian dressing folded in a flour tortilla with rice & refried beans

$16.95

SOUTHWESTERN SALAD WITH JALAPENO SHRIMP SKEWERS

A flour tortilla basket filled with mixed garden greens topped with skewered shrimp & jalapeno bacon, sliced avocado, diced tomatoes and applewood bacon bits jalapeno ranch ~ citrus vinaigrette ~ creamy horseradish

$20.95
DESSERTS
KEY LIME CHEESECAKE

$7

CHOCOLATE BANANA SWIRL TORTE

$6.75

TOLL HOUSE COOKIE PIE ALA MODE

$7

FLAN

$5.25
Slide 1 of 3
Slide 2 of 3
Slide 3 of 3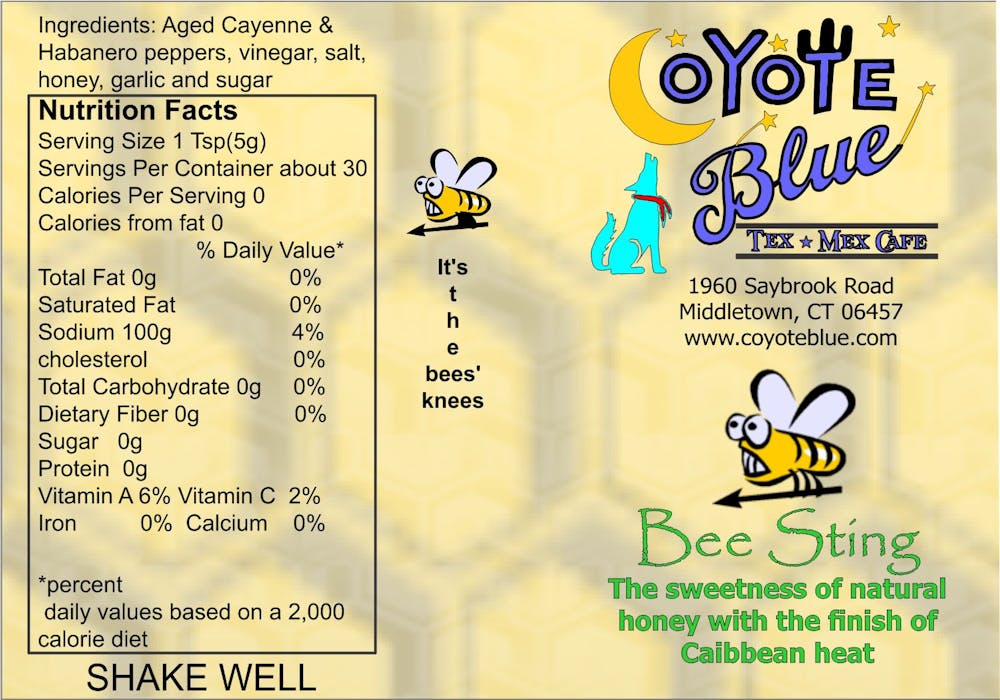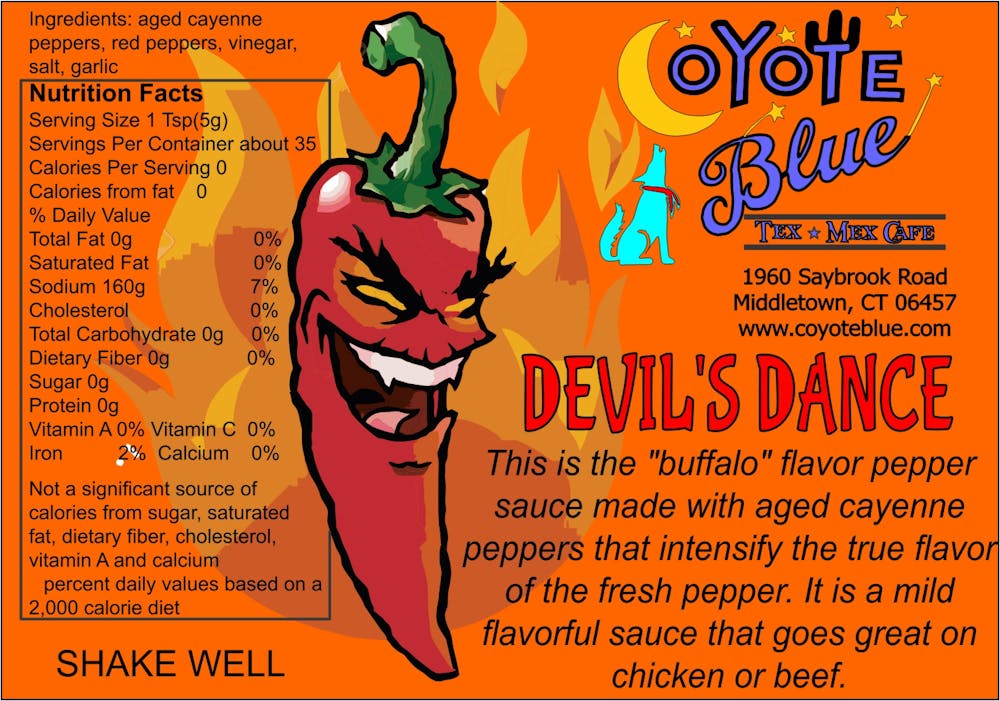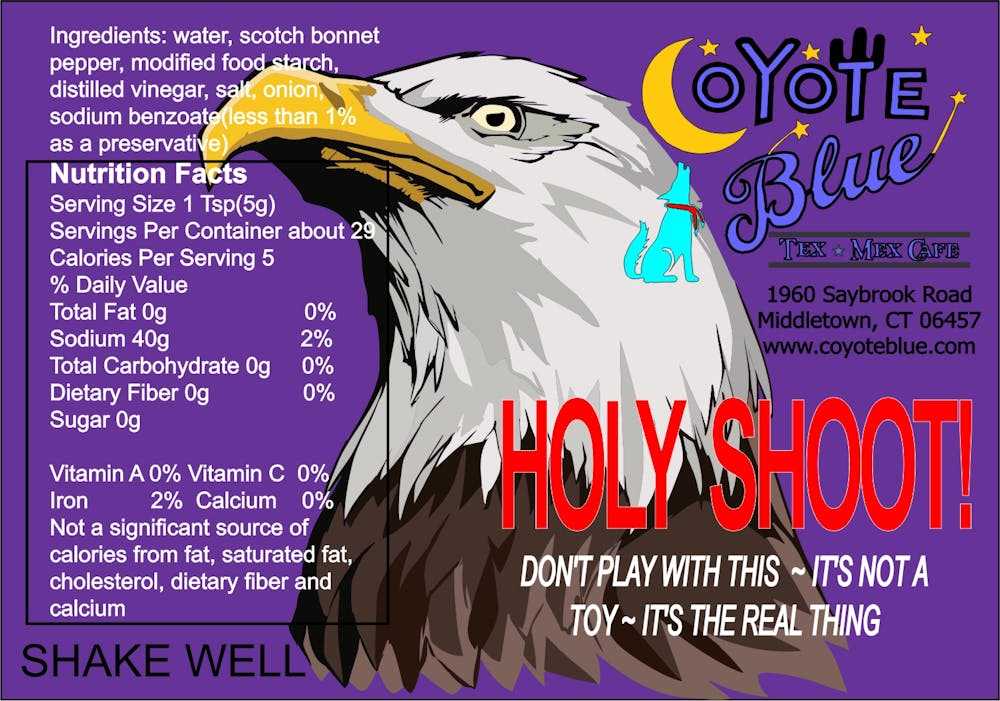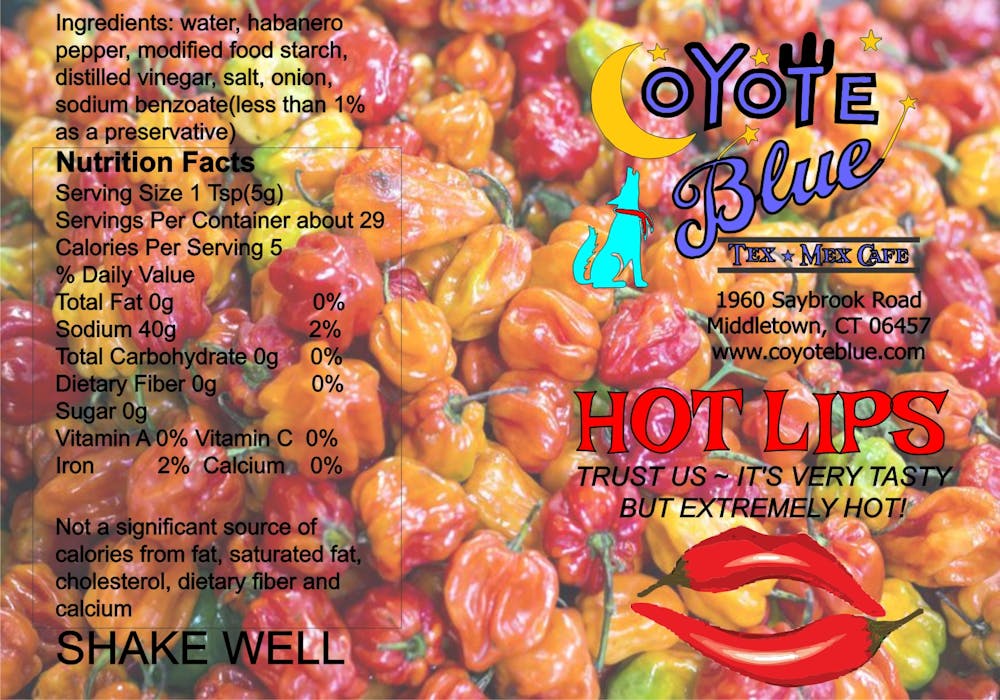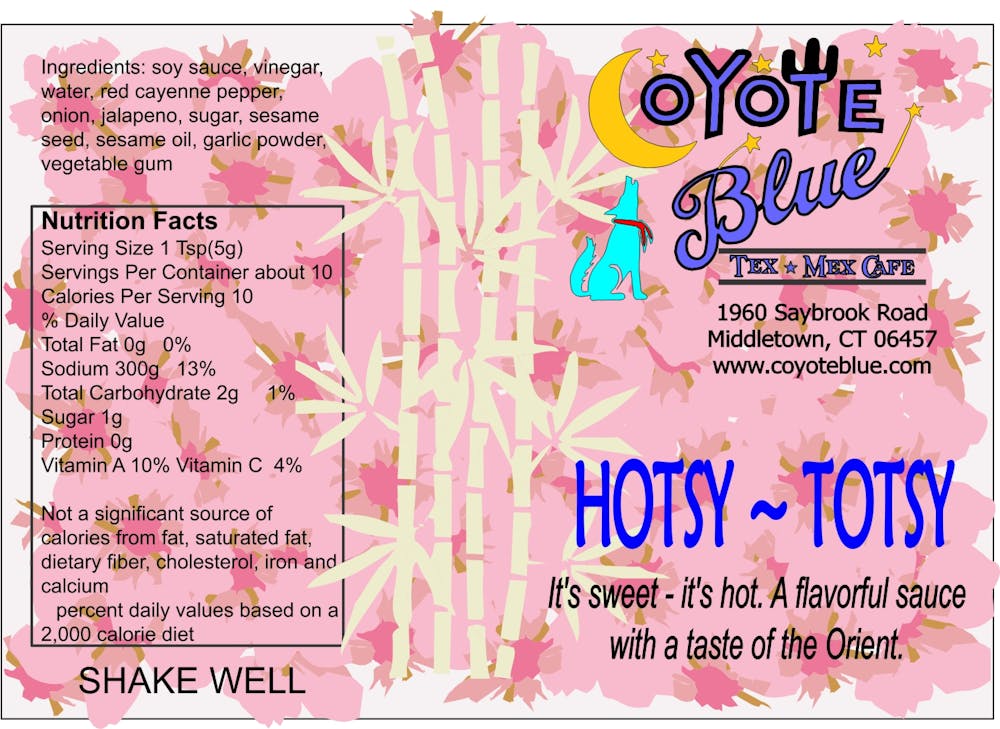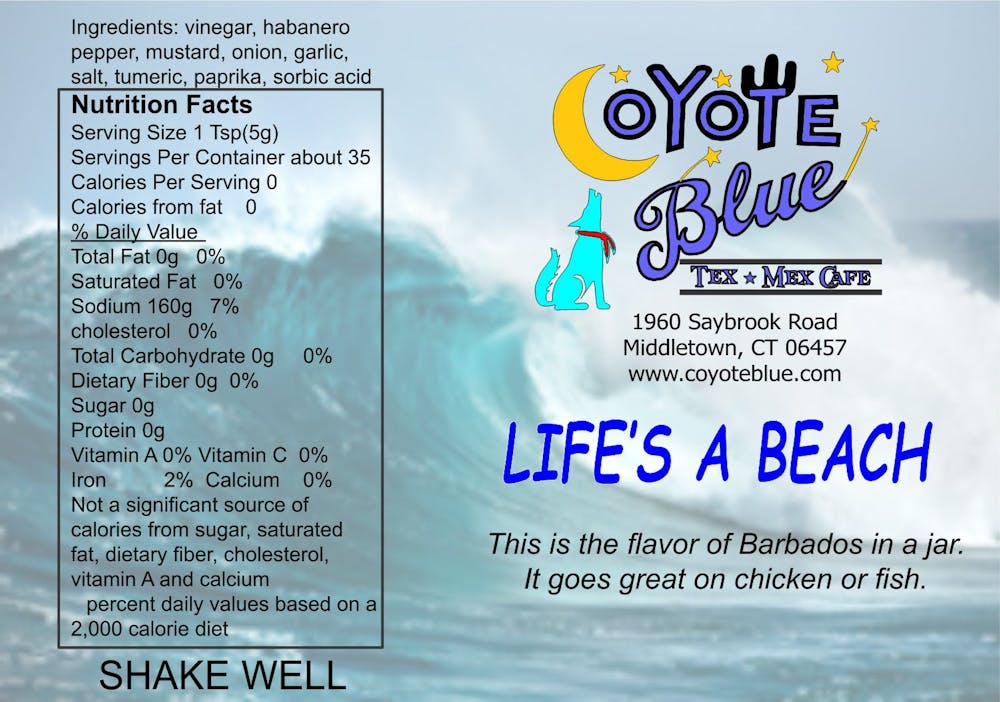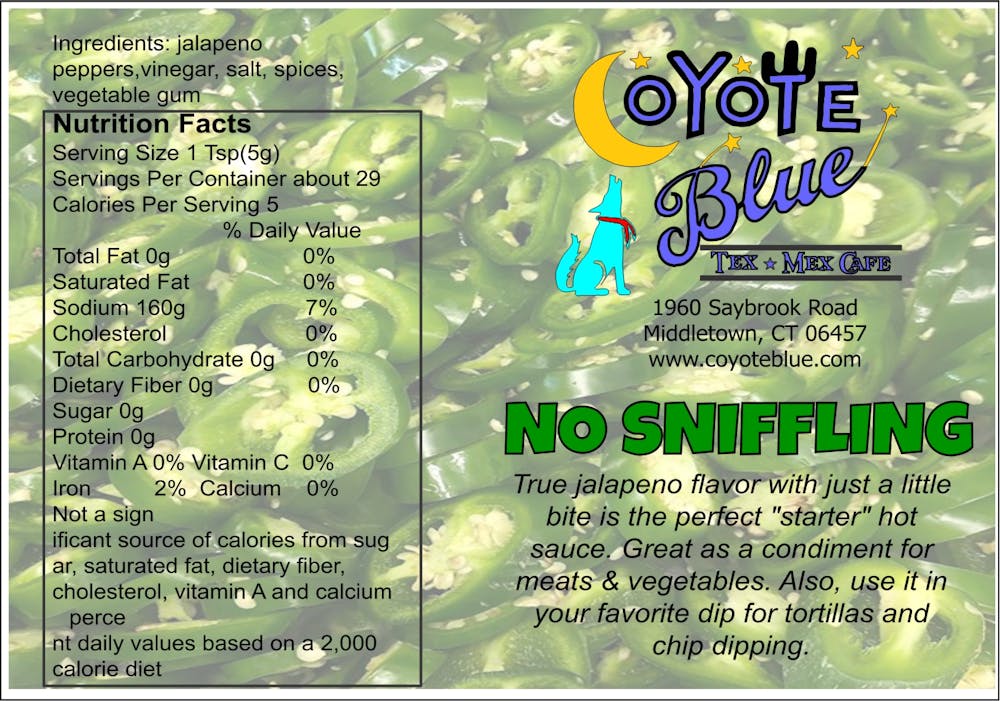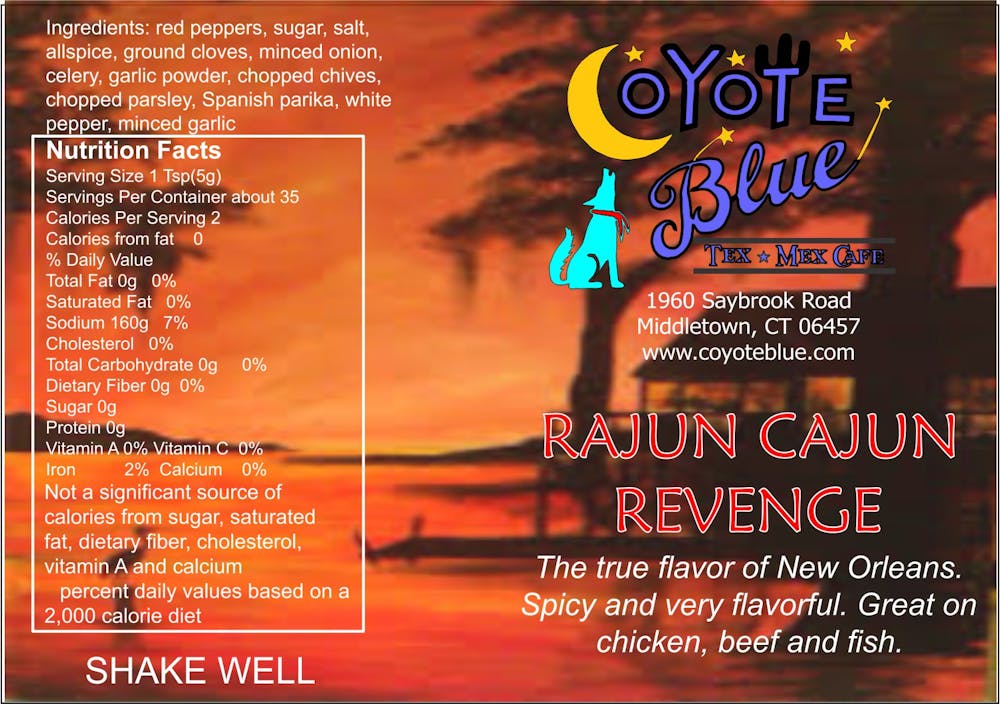 Hotsy Totsy

It's hot with a slightly sweet finish. A little like an Oriental sauce.

$5

Catching Fire

This is our version of Sriracha - great when you want to add a little more spice.

$5

Rajun Cajun Revenge

The true flavor of New Orleans. Spicy and full of flavor.

$5

Devil's Dance

This is the "buffalo" flavor pepper sauce made with aged Cayenne peppers that intensify the true flavor of the fresh pepper. It is a mild sauce that goes great on chicken or beef.

$5

Life's a Beach

This is the island flavor of Barbados in a bottle. It goes great with chicken or fish.

$5
Hot Lips

This is very tasty and spicy hot!

$5

No Sniffling

Great jalapeno flavor with just a bit of a bite makes this the perfect "starter" sauce. This is great on meats and vegetables or try adding it to your favorite salsa for chip dipping.

$5

Bee Sting

The sweetness of natural organic honey with the finish of fiery Caribbean heat.

$6

Holy Shoot!

This is our hottest sauce made with a blend of chiles that include the Scotch Bonnet. Trust us - this is the real thing.

$6

Tear Jerker

The authentic taste of the ancient region surrounding Mexico City.

$6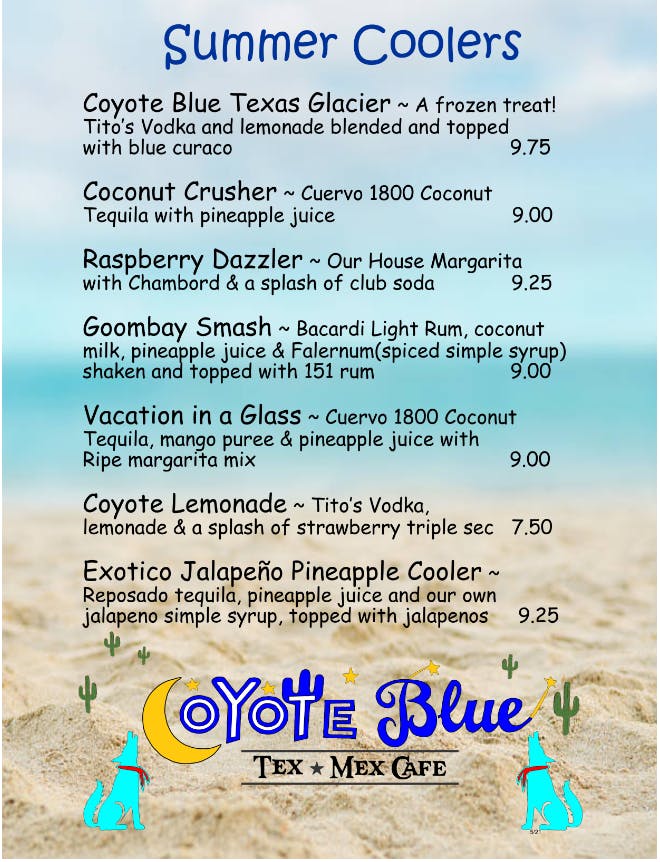 Coyote margaritas are our own recipe blending together a great balance of tequila, lime and sweetness. They are served in 16 oz. mugs and have quite a potent kick. We feel that two margaritas are enough for the average person so we also offer a "half a Marg " for your pleasure and safety. We want you to enjoy your visit and come see us again. We build our Ultimate with Sauza Conmemorativo Anejo, Ripe Agave blend, Gran Gala and Grand Marnier. "Margarita Up".
Margaritas
House | Blue | 1800 | Ultimate
Organic Margarita

You can "skinny down" any of our margaritas. We craft them using RIPE BAR JUICE made in New Haven. It is cold-pressed from the juice of Persian limes, Valencia and/or Hamlin oranges balanced to perfection with 100% Organic Agave Nectar.
Margarita Flavors
Add your favorite flavor to any of our Margaritas
Pomegranate

Mango

Raspberry

Peach

Fireball

Strawberry
Frozen Fruit Delights
Strawbery | Raspberry | Pina Colada Mango | Lime
Blanco or Plata (silver)
Clear unaged - fresh and fruity, closest to the taste of agave itself. Margaritas are built with triple sec and lime
Asombroso Plantino Blanco

Avion Silver

Casamigo Blanco

Cabo Wabo Blanco

Chinaco Blanco

Cielo Silver

Corazon Blanco

Corzo Silver

Cuervo Silver Especial

Cuervo 1800 Coconut

Cuervo 1800 Silver

Cuervo Reserva de la Familia Platino

Cuervo Tradicional Silver

Don Julio Blanco

El Jimador Silver

El Mayor Blanco

El Tesoro Platinum

Espolon Blanco

Exotico Blanco

Gran Centenario Plata

Grand Mayan Silver

Herradura Silver

Hotel California Blanco

Lunazul Blanco

Milagro Silver

Partida Blanco

Patron Silver

Roca Patron Silver

Sauza Hornitos Plata

Sauza Tres Generaciones Plata

Tres Agaves Blanco
Cordial Tequilas
These are tequila based and best enjoyed as an after dinner drink served over ice.
Patron XO Café

(coffee)

Patron Citronge

(orange)

Agavero Licor De Tequila

La Pinta Pomegranate Tequila Liquor

Cuervo 1800 Jalapeno Infused Reposado

Ancho Reyes Chile Liquor
House Specialties
Coyote Lemonade

Tito's vodka, lemonade & a splash of strawberry triple sec

Santa Anna's Gin

Gin, lemonade & a splash of strawberry triple sec

Bloody Maria

Tres amigos jalapeno 1800 tequila and a snappy bloody mary mix

Wine Margarita

Built with chardonnay, triple sec and lime

Sangria

Burgundy wine, fruit juices and VSOP brandy in a 16 oz mug

Seesters Margarita

Built with 1800 jalapeno infused tequila and lime

Goombay Smash

Bacardi light rum, coconut milk, pineapple juice & falernum (spiced simple syrup) topped with 151 rum
Reposado (Rested)
Aged in wood barrels up to a year. Margaritas built with Gran Gala and lime.
Asombroso la Rosa Reposado

Avion Reposado

Casamigo Reposado

Cabo Wabo Reposado

Chinaco Reposado

Cielo Reposado

Corazon Reposado

Corzo Reposado

Cuervo 1800 Reposado

Cuervo Traditional

Don Julio Reposado

El Jimador Reposado

El Mayor Reposado

El Tesoro Reposado

Espolon Reposado

Exotico Reposado

Gran Centenario Reposado

Grand Mayan Reposado

Herradura Reposado

Hotel California Reposado

Lunazul Reposado

Milagro Reposado

Partida Reposado

Patron Reposado

Roca Patron Reposado

Sauza Hornitos Reposado

Sauza Tres Generaciones Reposado

Tres Agaves Reposado
Joven (Gold)
Unaged with added caramel or cane sugar. Slightly sweeter and unique gold color. While not quite as smooth as a reposado they make a good Margarita with triple sec and lime.
Sauza Extra Gold | Jose Cuervo Gold Especial
Frozen Libations
Kahlua Sombrero

(w/ ice cream)

Boot Scoot

(Kahlua pina colada)

White Russian

(w/ ice cream)

Mudslide Freeze
Anejo (Aged)
Aged for a minimum of one year in oak barrels. The higher end Anejos are excellent for sipping but may be also enjoyed in a Margarita we build them with Grand Marnier and lime
Avion Anejo

Casamigo Anejo

Cabo Wabo Anejo

Chinaco Anejo

Cielo Anejo

Corazon Anejo

Corzo Anejo

Don Julio Anejo

El Jimador Anejo

El Mayor Reserve Anejo

El Tesoro Anejo

Espolon Anejo

Gran Centenario Anejo

Grand Mayan Ultra Aged Anejo

Herradura Anejo

Milagro Anejo

Lunazul Anejo

Partida Anejo

Patron Anejo

Roca Patron Anejo

Sauza Conmemorativo Anejo

Sauza Hornitos Anejo

Sauza Tres Generaciones Anejo

Tres Agaves Anejo
Best of the Best
These tequilas are the highest quality available and are a 1½ ounce pour. They are best enjoyed in a shot glass or snifter. We will be happy to build them in a margarita for you with Grand Marnier and lime ~ double the price.
1800 CRISTALINO ANEJO

Clas Azul Reposado

Cuervo Reserva de la Familia Extra Anejo

Don Julio 1942 Anejo

El Tesoro Paradiso Extra Anejo

Milagro Select Barrel Anejo

Patron Gran Platinum

Asombroso Ultrafino Anejo
Mezcal
Unlike tequila, which by law must be made from Blue Weber Agave, mezcal can be made from 30-plus varietals. It can be clear, golden or amber. Age statements range from zero to two months for Joven Mezcals, two months to one year for Resposado, one to three years for Anejo, and more than three years for Extra Anejo. The signature smoky flavor is a result of its production process, in which the pinas or hearts of the agave plants are roasted in pits dug into the ground and distilled in clay or copper pots.
Banhez Joven

Bruxo Joven

Casamigo Joven

Del Maguey Vida

Delrio Joven

Delrio Reposado

Delrio Anejo

El Silencio Joven

El Silencio Reposado

Illegal Joven

Illegal Reposado

Montelobos Joven

Los Amantes Joven

Los Amantes Reposado

Vago Cuixe

Vago Espadin

Vago Ensamble

Xicaru Silver 102

Xicaro Silver

Xicaro Reposado

Zignum Silver

Zignum Anejo